Brands: Extron Electronics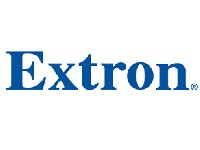 Extron Electronics, is one of the world's largest manufacturers for professional AV system products. With the Extron products you realize the perfect infrastructure to integrate high-quality AV solutions and let the equipment work together. By sticking to their 3S philosophy; Service, Support and Solution, Extron has become a manufacturer that is indispensable in the professional AV industry.
ShowTheme is an Extron Reseller authorized and certified for "AV Associate", "Configuring for Control" and "Control Specialist".
For more information see: https://www.extron.com/